Meet Assistant Professor Dr. Srujana Samhita Yadavalli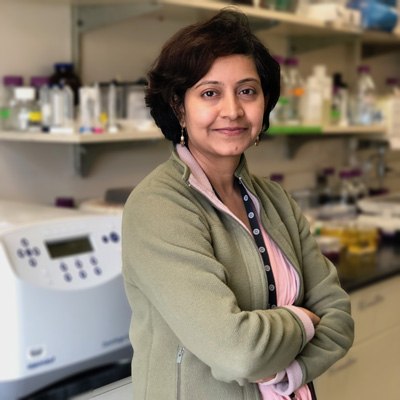 The faculty is pleased to announce Dr. Srujana Samhita Yadavalli as an Assistant Professor and Lab Director at the Institute. Her new assignment began on September 1, 2019.

In her new role, she plans to develop an interdisciplinary research program to study how bacteria respond to and evolve resistance to antimicrobial stress. In addition, her research will highlight the biochemical functions of the growing number of understudied small proteins and provide insights into a new and emerging theme of gene expression regulation. She is also deeply committed to mentoring students from diverse backgrounds and at all levels of education.
Background

Research Associate, Rutgers University 2017-2019
Visiting Researcher, University of Pennsylvania 2017-2019
Postdoctoral Fellow, University of Pennsylvania 2012-2017
Ph.D. Ohio State University 2012
B.Tech. Biotechnology, Anna University, Chennai, India, 2006
For the past 2 years, Sam Yadavalli has worked as a Research Associate integrating tools from microbiology, biochemistry, and genetics to understand bacterial gene regulatory networks underlying stress response in the Bryce Nickels Lab. Prior to joining Rutgers, she worked as a postdoctoral researcher in the Mark Goulian lab at the University of Pennsylvania, studying signal transduction and regulation of gene expression in bacteria. As a doctoral candidate in the Michael Ibba lab, her research helped to understand how some PheRS enzymes that lack major quality control mechanisms conserved in E. coli and other bacteria function.
Welcome, Dr. Yadavalli!
---